Cheats Tomato pasta with a Twist of chilli
When I spotted the Heinz cream of tomato soup with a twist of chilli I had to buy it.  When I was tipping some of the soup into a pan I noticed  a recipe on the back of the tin, so I kept half of the soup and decided to give the recipe a go, of course I couldn't resist adding a few more ingredients.
Serves 2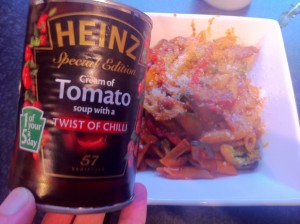 Ingredients
1/2 tin Heinz cream of Tomato soup with a hint of chilli
100g of dried pasta
1/2 red pepper, sliced
1/2 yellow, sliced
3 slices smoked bacon, chopped
5 chestnut mushrooms, sliced
1/2 small red onion, sliced,
Parmesan, grated
Pinch of chilli flakes
Pepper
1 tsp oregano
Method
Place a pan of water on the stove and cook your pasta according to the instructions.
Heat a frying pan and add a little olive oil then add the bacon, fry until crispy.
Add the vegetables followed by the chilli flakes and oregano, fry until vegetables are nearly cooked.
Tip in the soup and a splash of cooking water from the pasta.
Drain the pasta and mix with the sauce.
Season with Pepper and serve with a topping of parmesan.