Cajun Rice Krispie Chicken
This was a bit of an experiment as I fancied something different to breadcrums, crushed up crisps or crackers and was inspired by some prawns we had from Iceland at Christmas.
It's really simple and really tasty, the mayo could be spiced with all sorts of things but I had some left over hairy dieters cajun spices that i'd mixed up a while back that needed using.
These would be great for buffets or snacks while watching the footy but we had them with some wedges and veg.
Serves 2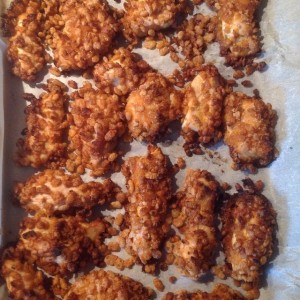 Ingredients
6 tablespoons low fat mayo
 1tsp ground cumin
2 tsp smoked paprika
1/2 tsp dried thyme
1/2 tsp dried oregano
1 tsp white pepper
plenty of salt and black pepper
1 tsp chilli powder
2 chicken breasts, sliced into goujons
150g of rice krispies
Method
Pre heat your oven to 200 degrees.
Mix the herbs and spices apart from the salt and black pepper with the mayo and place in a dish
Put the krispies in another dish, season with salt and black pepper. Crush some of the krispies up with your finger, this helps coat the chicken more evenly.
Dip each chicken slice in the mayo followed by the krispies then place on a sheet of baking paper on a baking tray.
Place in the oven for 20-30mins until golden and the chicken is cooked.
Serve.