Blue Cheese Apple and Chilli Burger
This is a recipe from a book called "The Burger" which I picked up from the cheap bookshop in town a few months ago, It's a great little book which is written in a cartoon style and is packed full of tasty burger and accompaniment recipes.
The original recipe didn't have chilli in or the mango chutney as I added them to spice things up a bit. It also suggested BBQing the burgers which I did but they were a bit difficult to flip so I'd be tempted to grill them or fry them next time.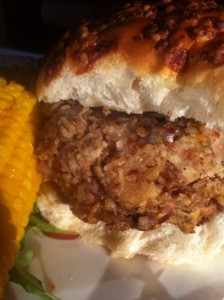 This makes 4-6 burgers depending on how big you make them.
Ingredients
175g new potatoes

225g mixed nuts (I used almonds, pecans, walnuts and hazelnuts)
1 onion, roughly chopped
1 tsp chilli flakes
2 small eating apples, cored and grated (I used Granny Smith Apples)
175g blue cheese, crumbled (I used Blacksticks blue)
Salt
Pepper
55g breadcrumbs
2 tbsp wholemeal flour
1-2 tbsp sunflower oil
lettuce
4-6 cheese topped buns
2 tbsp mango chutney
2 tbsp soured cream
Method
 Cook the potatoes in a pan of boiling water for 15 mins or until they are soft, using a potato masher or fork, crush into small pieces, place in a large bowl.
Place the nuts and onion in a food processor and blitz into small pieces add to the potato.
Add the cheese, chilli and breadcrumbs to the potatoes and mix well
Season with salt and pepper then shape into 4-6 equal size burgers.
Roll each burger in the flour, wrap in cling film and chill for at least an hour.
Brush each burger with some oil then BBQ for 5 mins each side until hot through.
Mix the soured cream and mango chutney, spread a little on each bun, top with some lettuce
Add the burger and enjoy.