Chilli Glazed Spam
A couple of weeks ago the lovely people at Spam sent me a huge parcel of spam and spam related goodies, I'd not had spam since I was a kid and even then I think I only ever had it as fritters at school, so I decided to try and see how many ways I could spice it up.
This is my first go, there will be a few more soon so watch this space.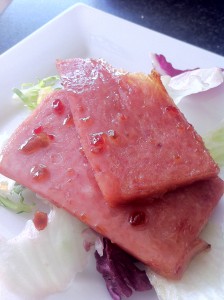 Ingredients
1 tin of SPAM
Your favourite chilli jam or jelly.
Lettuce
Ciabatta slices.
Method
 Pre heat your grill to a medium heat.
Slice your spam into 1cm thick slices.
Coat each slice in chilli jam
Grill for a few minutes either side until crispy.
Serve on the ciabatta with a couple of slices of lettuce.