Chilli and coconut prawn curry
This is a really nice, quick and simple prawn curry, that can all be done in one pan so doesn't need much washing up afterwards so perfect for a mid week tea.
Serves 2-4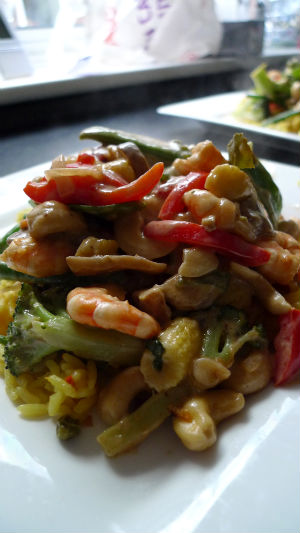 Prep time: 10 mins
Cooking time 10 mins
Ingredients
5 fresh chillies, finely chopped

3 tsp ground coriander,

2 tsp cumin seeds, crushed

2 cloves, crushed

1 tsp ground cinnamon

1 tsp peppercorns, crushed

1 tsp salt

3 tsp sugar

2 shallots. finely chopped
2 tsp oyster/fish sauce
zest and juice of a lemon
zest and juice of a lime
1 thumb sized piece of ginger
1 packed (200-300g of fresh raw prawns)
handful button mushrooms or oriental mushrooms
handful cashew nuts
1 red pepper,
handful green beans
handful of broccoli florets
1/2 tin coconut milk
handful baby corn, sliced
small bunch fresh coriander
olive oil
Method
Put the prawns in a bowl and cover with the lemon and lime juice, leave for 5 minutes.
Heat the olive oil in a pan, remove the prawns from the juice and then add the prawns, fry for 2 mins until pink and cooked. Remove from the pan
Add the vegetables into the pan and fry until cooked and soft, add the juice from the lemon along with the herbs,spices, ginger, oyster sauce and garlic, and fry until the garlic is cooked, add the cashew nuts.
Add the coconut milk and bring to the boil, cook until the sauce starts to thicken, check your seasoning and adjust with salt and pepper if necessary.
Add the prawns back into the pan to warm through.
Serve with rice and garnish with some coriander.