Chicken, chorizo and Jalapeño Tangle Pie
This is an adaptation of the delicious, Hairy Dieters Chicken and Ham Tangle Pie, it's not quite as healthy but it's blooming tasty.
The chicken was sent to me by Farmison.com who delivery meat, game, veg and cheese to your door, it was part of a pack which I'll write some more about soon but the particular chicken in question was a Goosnargh Corn Fed chicken from their poultry range. It was really plump and the skin had that yellow tinge that is associated with corn fed chickens. It was well packaged and well prepared, It even had the farm written on the bag which after the recent horse meat scandals is re assuring and probably something that will become more common place.
I decided to make a version of the Hairy dieters pie with the chicken as I didn't want to overpower the chicken and had some filo pastry that needed using.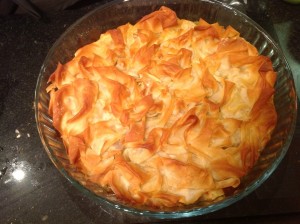 Ingredients
1 1kg whole chicken, roast and left to cool

3 chestnut mushrooms
1/2 jar Jalapeño
1 pinch chilli flakes
25g Monterey jack or similar cheese, grated
1 medium onion, peeled and finely sliced
2 cloves of garlic, crushed
1 medium leek, washed, trimmmed and sliced.
100ml white wine
300ml low fat crème fraiche
1 chicken stock cube
150ml water
50g picante chorizo, sliced
2 tbsp plain flour
Salt
Pepper
3 sheets of filo pastry
4 tsp sunflower oil
Method
Pre heat oven to 180 degrees

Heat 2 tsp of sunflower oil in a large non stick fyring pan. Add the onion and crushed garlic, fry gently for 5 minuts until the onion is soft, add the leeks and cook for a further minute, add the chorizo and fry until the oil starts to release

Pour over the white wine and 100ml of the water  and dissolve the stock cube in the pan, turn up the heat and simmer until the liquid has reduced by half
Remove the pan from the heat
Strip the meat from the chicken and cut into bit sized pieces, place in a large bowl then sprinkle the flour on top and toss to coat the chicken.
Mix the onion mixture in with the chicken and season with lots of black pepper and a little salt, add the crème fraiche and Jalapeños stir until well combined.
Tip into 1.5 litre pie dish
Sprinkle the cheese over the top
Pile the filo sheets on top of each other on a work surface, cut into 9 rectangles, cutting through all of the layers.
 Brush each pastry rectangle with a little oil ,loosely scrunch each rectangle up and place on top of the chicken mixture, putting the pieces together until they cover the entire pie. Sprinkle the top with the chilli flakes
Bake for 30-35 minutes until crisp and golden
Serve with salad for green vegetables.