When everything comes together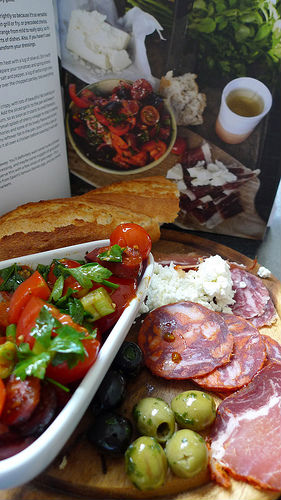 A few weeks ago I was lucky enough to win a selection of cured meats and some wonderful olive oil from TopTapas on twitter, then a couple of days ago I also received a pack of their fire chorizo.
The first pack that arrived contained a mix of ham, sausage and chorizo all of which looked and smelled absolutely fantastic, the same was true for the fire chorizo, although it had the unmistakable smell and colour of the added chilli.
In between the two packages arriving I also subscribed to Jamie Oliver's magazine and received his new book as a subscription freebie, and what a great book it is too, I shall be making more from it this week, there are lots of meals with and without chilli that look and sound really tasty.
As it happens in the book there is a recipe for "The best tomato and Chorizo Salad" so decided that testing the book and the chorizo together was a must.
The recipe it's self was really simple, some fried chorizo, tomatoes, sherry vinegar and herbs all tossed together to make a lovely warm salad, it was suggested that it should be served with ham, goat's cheese and bread,  so for once I did as suggested and served it with a big hunk of bread, some local goats cheese and a selection of meats that came in the first package from TopTapas.
The result was nothing short of spectacular, the tomato and chorizo salad was sublime, the chorizo being the star of the show, it was packed full of flavour, lovely and soft and had a fantastic chilli heat to it, which was mellowed out by a nice smokey flavour in the backgorund. You could tell the quality of it as soon as it hit the pan, it smelled fantastic and unlike the cheap chorizo you get in the shops it didn't start spitting and I didn't find my self having to drain lots of excess fat from the pan. It had just the right balance of spice and seasoning along with just enough fat to keep it moist and delicious.
The other meats I served up with it were fab too, esepcially the ham, I couldn't get enough of it, it worked really well with the salty, creamy goats cheese. Absolutely spot on.
I enjoyed it while sat on the patio in the sun, I could have quite easily been sat in Spain enjoying the produce from where it came! The perfect summer lunch.
Most if not all of the meats and sausages from top tapas are lovingly hand made and it really does show. If you want to try some of their fabulous produce direct from Spain then check out their website here or follow them on twitter here if you want to try the Jamie oliver recipe then you can buy his book or subscribe to the magazine here use the voucher code jdoes10 and get the book free.