One F***** Drop at a Time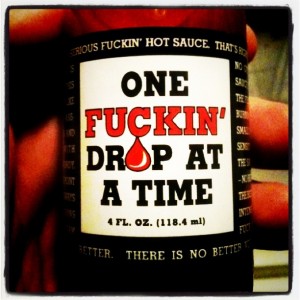 This guest post comes courtesy of Ron from www.ronvanrutten.com. Big thanks to him for taking the time to review it, It sounds like an absolute cracker and I'm hoping he makes the ribs he mentions and shares the recipe. In return please follow him here
Last week I went to Berlin and found a nice little shop called the Pfefferhaus (9 euro's). Seeing as the whole shop was all about chili's, I couldn't wait to buy some. I bought some smoked peppers, got myself a free smoked habanero chili and bought a bottle of One Fuckin Drop at a Time as it was recommended by the owner.
Scoville rating has it between 350.000 and 800.000 units depending on how many
drops you use.
No way I could try it out in just any dish so I decided to have it in a nice chili as it needs heat.
It comes in a nice bottle with quite the warning text on the bottle. Being in the name, it comes with a dropper. Not really something you want to re-use for eyedrops when you finish the bottle…
Of course, me being a total idiot, I decided to try it "raw", as in: one drop on the tongue.
It's been a while since I've had that much intense heat on my tongue. Later I looked at my tongue in the mirror and was amazed to see that
no blisters or burn marks had formed. Definitely do-able but not for the faint of heart.
I made my chili (just a simple variation on Andy's), added a drop, stirred and tried a little bit. Then another drop or 2. And few more
followed till I felt the heat rise high enough. In retrospect I *might* have overdone it a little bit and could have added 5 drops instead of 8, but it didn't ruin the meal.
Rating with food: 7/10
Not a bad aftermath. The heat when combined with food, for me at least, was a nice and slow burn. Not an instant mulekick to the head
like having it raw. When combined with food it got hotter after a few seconds and left a nice aftertaste. After finishing the meal I
noticed how sweaty my head was, been a while since I had sweat on the back of my head 😉
Would I try this again? Oh hell yes. I have a nice idea for spicy ribs churning away in my brain…