Mattessons Vindaloo Fridge Raiders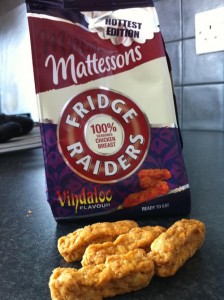 Every now and then you find something that really shouldn't be tasty and you really shouldn't like, Mattessons Vindaloo Fridge Raiders are one of those things.
The packet reads "The hottest edition of Fridge Raiders ever! Chicken pieces, seasoned in a traditional Indian spice mixture of chilli, lime and garlic to satisfy even the wildest tastebuds"
That's some statement, especially given that they don't look that appetising, they kinda look like a cross between chicken nuggets and some sort of squishy nut. Despite their appearance they contain 91% chicken breast along with some palm oil, seasoning and some wheat, which doesn't read as bad as I thought it would.
Nutritional wise there are 134kcals, 7g of fat,  3.1g of saturates and 0.8g of salt per 65g bag, which although not "healthy" is way blow most bags of crisps and other snacks around.
Now the bit that surprised me – the taste – they were pretty damn tasty, I could taste the lime, some cumin and other heady Indian spices along with a rather decent amount of chilli that builds up the more of them you eat, it doesn't burn but you know its there, before I knew it the pack was all gone.
Chilli Up North Verdict: Great meaty alternative to crisps, best eaten straight from the fridge or warmed up on top of a naan with some salad and raita, 6/10 (heat 2/10)