Lancashire Chilli Black Pudding
This is a post from Phil over at Beersay he'd been saying on twitter he got some Chilli Black Pudding to to try so I roped him into doing a review of it for me. In return please check out his  Beersay blog and follow him on twitter

The Rossendale based Lancashire Black Pudding Company are award winning "specialist black pudding makers" using only traditional methods and base recipes dating back to 1879. Their fine black puddings have featured on many TV shows including the F Word, the food channel and are recommended as being one of Rick Steins "Food Heroes".
This pudding is described as giving "a slow release explosion of flavour" and that description just about nails it perfectly.
As you cut the first slice it has  a reassuringly sticky feel to it as you drag the knife through, leaving a dark red coating on the blade. At first sight of the inside, it looks like my favourite type, I personally hate to see big blobs of chunky white fat, I hate the texture and think it shows poor quality (you may disagree)..
The taste is as sticky and moist as your expecting from the slice, it's rich and claggy as black pudding should be, there are soft cereal grains in the mouth as you chew, the meaty taste complimented by the traditionally expected black pudding spice. Then, there's more.. The pepper gives way to a chilli flavour that steadily rears it's head to take over your taste buds with warm but intense chilli heat. The chilli heat is not huge as in "burn your mouth, pass me the ice cold water hot", more slow build and long lasting.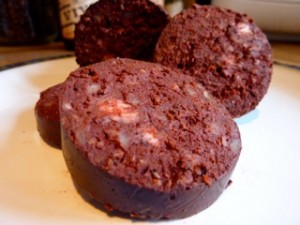 When I tasted it I ate it cold, first in small tasting chunks, then strangely but successfully thinly sliced with a cold chilli roast pork sandwich on granary bread, both meats complimenting each other perfectly
I am not a hug fan of black pudding in dishes or at least cook them rarely at home, but would suggest this would go well in something like a rabbit stew. To drink, well it was lunchtime and I was working so no beer at the time, but I was thinking that maybe a rich fruity but very hoppy IPA would go well with the spices on show?
If you want to take a look at what they are up to they have a well laid out web page which features their products, recipes, history and awards, they even have Twitter and Facebook pages should want to keep up with events.