Fire Foods: Fire Onions
These fire onions were sent to me as part of the package from Woody from Fire Foods sent me (I reviewed the chilli choc drops here).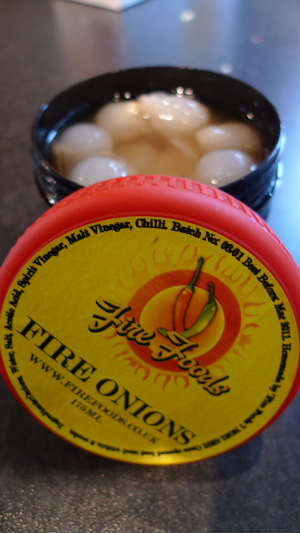 They come in the same black, red and bright yellow packaging, giving you the impression that the contents is hot and spicy, possibly bordering on dangerous.
As soon as you open the lid you get a huge whiff of chilli, really strong pungent chilli, the tub is packed full of little white silverskin onions that have a really nice shine to them, they also have a hint of red that comes from the pickling juice.This pickling juice has been infused with 6.4 million chilli extract, which is pretty insane when you consider that US police pepper spray is 5.5 million units
I grabbed a fork from the draw, skewered an onion and put it in my mouth, the onion was quite soft but still had a really nice crunch to it. The chilli hits you before you even bite into the onion, it's hot, very hot. There is some sweetness and a lovely pickled onion flavour in there for good measure but the big thing is the heat. It really does yet you warmed up.
I shared these around quite a few people and they even made some of them cry, the chilli also took Emily by surprise when she washed the tub out, just the residue (after the remaining pickling juice was tipped out) in a washing up bowl of water was enough to make her hands burn.
Chilli Up North Verdict: Great sweet onion flavour, massive chilli head, definitely not for the faint hearted 9/10  (heat 9/10)
If you want to feel the burn then you can buy some here