Dartmoor Chilli Farm Real Ale Chilli Chutney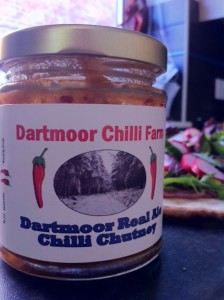 When having a sort out of my chilli sauces and chutneys cupboard I came across this jar of Real Ale Chilli Chutney from Dartmoor Chilli Farm, I'm not sure how long it has been in there but I've got a feeling it will have been in the package that contained the chilli and coffee chocolate.
The first thing I noticed when i opened the jar was the lovely big lumps of fruit, which were nice and soft so didn't catch when spreading it on bread.
It smelled delicious, slightly spicy, a little bit boozy and very fruity.  It tastes fantastic, quite sticky and sweet but it's packed full of different flavours, there's a nice bit of apple in there that works really well with the bits of red chilli…who'd have thought of apple and chilli. There's some sweet, mellow onion and a nice under current of ale, which I gather is from a brewery close to the farm. The chilli is quite mild but you know it's there.
So far i've had it on cheese on toast, in both ham and beef sandwiches and with some chicken liver pate…it worked equally well with all of them and has certainly livened up my lunch lately.
It's £2.95 per 210g jar which I think is a pretty good price so if you fancy trying some for your self you can buy it here.