As i'd mentioned in another post earlier, it was a busy weekend in the garden, as well as fixing the green house, i did a whole lot of other stuff, including planting my spuds (charlotte, nicola, kestril and maris piper, planted my onions in the cold frame, planting my goji berry bush, planting lots of seeds and other plants around the garden.
it was hard work and took more or less the whole day so i definately appreciated my sunday lunch and a couple of beers in the sun afterwards.
anway here are a few pictures for you
[nggallery id=9]
Every now and then i like to spice my yorkshire puddings up.
Yorkshire pudding batter can take just about any herbs and spices you throw at it, so give it a go and see which variations you prefer.
Basic Recipe
280ml Milk
3 Large free range eggs
115g plain flour
pinch of salt and pepper
Then if you want to flavour them try any of the following
Chilli powder, curry powder, dried chilli and lime zest, mixed herbs, rosemary, thyme,  paprika etc etc
You can even make sweet ones using lavendar, coconut, coconut milk (instead of milk), sugar, honey, chocolate etc etc
For my chilli ones i like to use 2 teaspoons of crushed chillis and a pinch of smoked paprika.
Method
Simply mix all of the ingredients together in a food prcessor and whizz round until you have a smooth batter.
When ready to cook:
Pre heat oven to 200 degrees.
Tip a little oil in the bottom of each section of a muffin tray and place in the oven until smoking
Pour a little batter into each section and then cook until golden.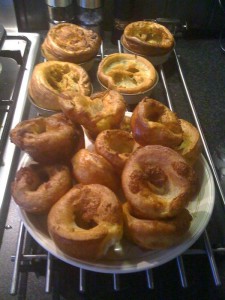 Sorry for the lack of updates recently,  it's been rather hectic at work and that combined with the weather has meant that not much had been done in the garden until yesterday.
Amongst other things i finally got round to fixing the greenhouse, after some nasty little kids chucked some rather large bricks at it.
I decided to go for clear, solid 3mm, uv protected polycarbonate, which is a bit more expensive than glass but after a bit of hunting around i managed to get a it for less than a 1/4 of most the quotes i had (the most expensive being over £200)
Its much easier to deal with than cheap horticultural glass, which is bloody lethal, even when in whole sheets.
It was a bit more complicated than last time i had to fix broken glass in it as it required removing some of the beading and fixing a crossbar that had been smashed by a big lump of concrete.
Some bits are a bit messy where i managed to get sealent on the glass, but that wil peel off when dried, Im quite proud of my handywork as before we bought the house i could do nothing practical like this.