I love popcorn, both savoury and sweet and recently enjoyed the Tyrell's sour cream and jalapeño popcorn I picked up in the Co-op.
I keep seeing recipes and ideas kicking about so I thought it was time to buy some popcorn kernels and get cooking although rather than wading in at the deep end and trying to make all sorts of crazy flavour combo's I decided to keep it really simple for my first attempt and use Nando's Peri Peri Chip Sprinkle, I really do love the chip sprinkle, I've always got a jar in the cupboard and use it on everything from jacket potatoes to cheese on toast, it's not really spicy but has loads of flavour.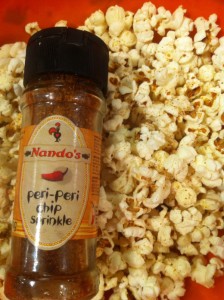 Ingredients
50g of un popped popcorn kernels per person
1 tbsp flavourless oil
Nando's Peri Peri Chip Sprinkle
Salt
Method
In a large pan (that you have a lid for) heat the oil for a minute or so, add the corn kernels, cover with lid.

Keep the pan on a medium heat and wait for the corn to start popping.
Once the corn has stopped popping, remove from the heat.
Sprinkle liberally with chip sprinkle and a little salt
Tuck in.